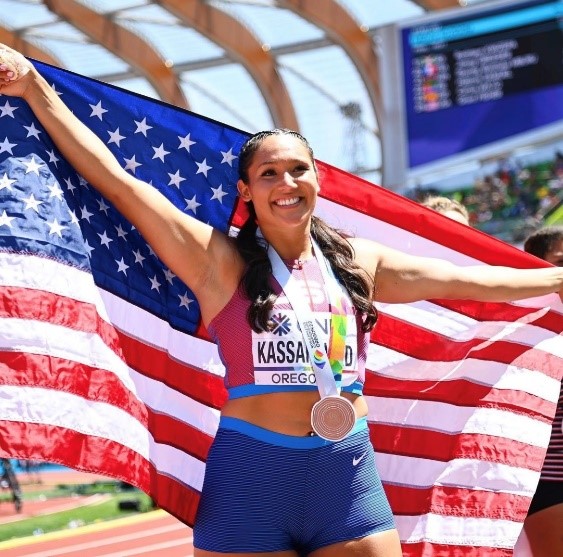 16 Aug

USATF Foundation Unleashes "Operation Hammer Sweep" – Round 2!

PITTSBURGH – The USATF Foundation is pleased to announce this year's Round 2 recipients of Operation Hammer Sweep Grants.  The Foundation unveiled Operation Hammer Sweep following last summer's medal-winning performances by Team U.S.A. hammer throwers at the 2022 World Athletics Outdoor Championships.  Operation Hammer Sweep is an ambitious athlete funding program aimed at dominating and eventually sweeping Olympic and World Championships hammer throw podiums in years to come.  The 2023 recipients of the Operation Hammer Sweep Grants are Brooke Anderson, Deanna Price and Janee Kassanaovoid on the women's side, and Rudy Winkler, Daniel Haugh, and Alex Young on the men's side.

Operation Hammer Sweep was spearheaded in 2022 by Foundation Director Ken Flax – a two time Olympian in the hammer throw for Team USA – and was funded by the generous support of an anonymous donor.  All six of last year's Operation Hammer Sweep winners made the 2022 Outdoor World Championships final, with Brooke Anderson taking Gold and Janee Kassanaovoid taking Bronze.  Heading to this year's World Athletics Outdoor Championships in Budapest, the six Operation Hammer Sweep Grant recipients seek to increase the medal haul.

Ken Flax, a co-founder of the funding initiative, reflected that "My friend and I created Operation Hammer Sweep as a 3 year program to give America's top hammer throwers the extra resources to help accomplish a podium sweep at the World Championships and/or Olympics.  American Podium sweep has not been achieved since the 1904 Olympic Games. We are hopeful this program helps our throwers achieve a new era sweep."

Operation Hammer Sweep Grantee Brooke Anderson described the impact the grants would have on Team USA hammer throwers: "The Operation Hammer Sweep grant is an amazing asset to hammer throwers in the US.  This grant provides great support to U.S. hammer throwers to focus on what's most important, winning medals!  It helps us continue to focus on training/competing and not to worry about some of the outside pressures of having to work as much or having to worry about other training expenses that may come up. It means so much to be one of the grantees, and as hammer throwers, we are so very appreciative of this grant."

Anderson's Team USA teammate, Deanna Price also shared her gratitude for the Operation Hammer Sweep Round 2 Grant. "Being a part of Team USA was always a dream.  That dream became a reality in 2016 when I made my first Olympic team.  These life changing grants from the USATF Foundation have kept that dream alive.  From breaking the American hammer record 6 times to becoming the first American woman to ever medal in the hammer. Now, because of these grants we have 3 World Championships medals, 4 women going to worlds in medal contention.  Everyday I pray to bring honor to my country and to be able to wear the red, white and blue.  This grant has given me the chance to GO BIG and to help change the world and put  USA women's hammer on the map."

Operation Hammer Sweep funding goes to American hammer throwers, both men and women, who finish 1st, 2nd, or 3rd in the USATF Outdoor Championships and achieve the Olympic qualifying standard.  Recipients of the grants will be awarded $5,000 (in addition to any Foundation Elite and Stephen A. Schwarzman Grant funds).