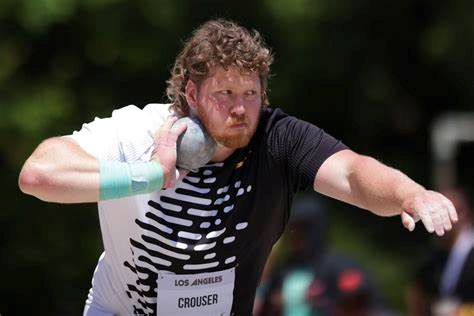 05 Jun

USATF Foundation Grantees Excel at Inaugural LA Grand Prix

LOS ANGELES – In its first year of production, the LA Grand Prix and Legends Jam proved to be one of the most competitive and entertaining track and field events in the world. With 15 Olympic medalists competing, the event brought a deep field of American and international stars that thrilled the crowd at Drake Stadium on the UCLA campus.

The USATF Foundation Grantees dominated the action with 19 podium finishes, led by Ryan Crouser's new World Record in the shot put. In all, USATF Foundation Grantees brought home three 2023 world-leading marks. Crouser's astonishing throw of 23.56 meters or 77.31 feet led him to make history and become the first man to throw beyond the 77-foot barrier.

Among the women, the remarkable American duo of Maggie Ewen and Chase Ealey claimed the top two spots in the shot put. Ewen delivered a stellar performance, securing first place with a throw of 20.45 meters, setting a new World Lead and ranking third all-time in the USA.

The American men soared to new heights in the Pole Vault event, with Sam Kendricks claiming second place at 5.91 meters–jumping just as high as winner and world record holder, Mondo Duplantis of Sweden. Chris Nielsen, the Olympic silver medalist, finished third with a jump of 5.71 meters. On the women's side, Sandi Morris secured gold with an outstanding jump of 4.61 meters.

Brooke Anderson and DeAnna Price showcased their strength in the women's Hammer Throw, securing second and third place with throws of 76.06 and 75.89 meters, respectively. Rudy Winkler also displayed his prowess in the Hammer Throw, capturing second place with a throw of 77.17 meters.

In the Women's Discus, Valarie Allman emerged victorious with a convincing throw of 68.39 meters, winning by a margin of more than 4 meters. Laulaga Tausaga-Collins took third place with a throw of 60.34 meters.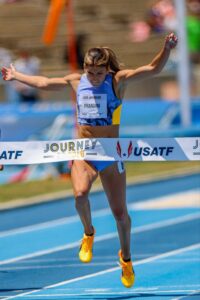 Jenna Prandini stole the show in the 200m, crossing the finish line in first place with a sensational time of 22.34 seconds. Twanisha Terry was not far behind, securing second place with a time of 22.44 seconds.
In the other track events, Quincy Hall claimed third place in the 400m with a time of 45.09. On the women's side, Lynna Irby-Jackson finished third with a time of 50.38. Trevor Bassit completed the USA sweep in the 400m hurdles, securing third place with a time of 48.62. Clayton Murphy emerged victorious in the men's 800m with a thrilling time of 1:44.75, narrowly edging past Festus Lagat to claim the top spot. Josette Andrews delivered an impressive third-place finish in the 1500m with a time of 4:00.77, further solidifying her status as one of America's best distance runners.