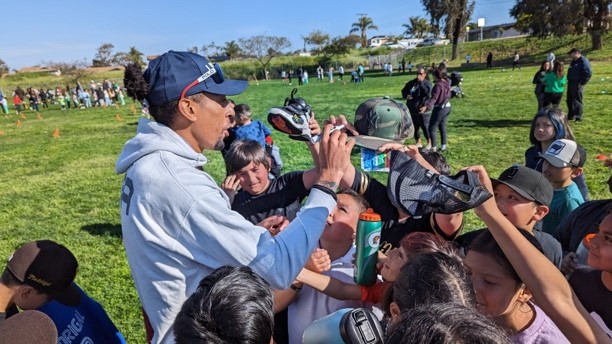 20 Apr

USATF Foundation Brings Run With US! to Elementary School Olympic Day

CHULA VISTA, CA – The USA Track & Field Foundation joined forces with Leonardo da Vinci Health Sciences Charter School in San Diego, California to host a successful Run With US! Olympic Day event recently.

The event is dedicated to teaching students about the history and traditions surrounding the Olympics.  The school places a strong emphasis on wellness and exercise in their curriculum and utilizes this special day to highlight these values.  As a health sciences school, a major part of the school's mission is to create "health literate" students who exhibit knowledge, skills, and behaviors critical to healthy living.

Foundation Grantee and two-time Olympian Chris Benard attended Olympic Day with hundreds of elementary school children. This appearance was coordinated through the USATF Foundation Run With US! program, which provides children with the opportunity to meet elite athletes and hear about their experiences and knowledge on items such as goal setting, self-esteem and nutrition.  This school-based program provides a connection between our youth and elite athletes to cultivate a passion for the sport of track and field.

"At LdV we strive to give our students meaningful and relevant experiences in the real world.  Olympic Day is a time-honored tradition at our school where our students participate in games to practice the true meaning of sportsmanship and the enjoyment of sport.  Having a real Olympic athlete inspires us all to be the very best we can for the honor of our teams (grade levels)," stated School Director, Courtney Cox.  Events like these inspire the next generation to have big dreams and chase after them.