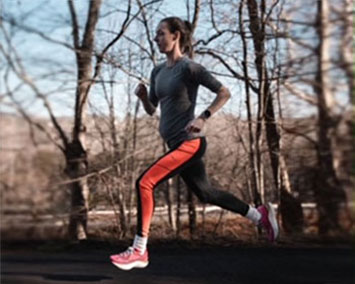 12 Jan

USATF Foundation Awards Maternity Grants to Four Elite Athletes

PITTSBURGH – The USA Track and Field Foundation is excited to announce four recipients of their newly established Maternity Grant: Shannon Rowbury, Molly Huddle, Ce'Aira Brown, and Elvin Kibet.  Each recipient will receive $4,000 in support.

The Foundation is committed to supporting mother-athletes who pursue motherhood during the course of their athletic careers. The new Maternity Grant is intended to provide additional and vital support to mothers during pregnancy and post-partum as they return to training and competition form. This grant is specifically intended for mothers who plan to return to an elite level, and pursue achieving spots in an Olympic Games, World Championship, or other Team USA competition.

USATF Foundation Director Lisa Larson stated, "I'm proud to be part of an organization that recognizes the opportunity we have to help our talented athletes who are in the prime of their careers pursue their dreams of both family and athletics. The grants will help these inspirational women come back stronger and faster than ever. With their best performances in front of them, the real winner is the sport of Track & Field and its millions of fans around the world."

Shannon Rowbury, who is currently pregnant with her second child, is one of the fastest American middle distance runners of all time. She is a 2008, 2012, and 2016 Olympian, with personal bests of 3:56.29 in the 1500 meter and 14:38.92 in the 5000 meter, both formerly American records. Other career highlights include a bronze medal at the 2009 World Championships in Berlin, and a 4th place finish in the 1500 at the 2016 Rio Olympics. Rowbury and her husband Pablo and daughter Sienna live in San Francisco, CA.

Molly Huddle is arguably the most decorated American women's distance runner in history, with 28 national titles to her name. She is the current American record holder in the 10,000 meter (30:13.17), 20k (1:03:48) and half marathon (1:07:26), and a 2-time Olympian. She was third in her marathon debut at the NYC Marathon in 2016. Huddle is pregnant with her first child. She and her husband Kurt live in Providence, RI.

Huddle reflected on her gratitude for this maternity grant: "Thank you to the USATF Foundation for helping support my return to sport as I navigate motherhood. I've seen athlete Moms become even stronger after starting a family but that's not without much support behind the scenes (like child care, baby supplies, pelvic floor rehab and other return to sport PT) so this will help a lot with that."

Ce'Aira Brown is an 800 meter specialist, with a personal best of 1:58.01. She competed for Team USA in the 2019 Doha World Championships, where she qualified for the 800 meter final, and placed 8th. Brown gave birth to her son, Ya'sin Lamar Henry, in November.

Elvin Kibet is both a roads and track specialist, who most recently competed in the 2021 U.S. Olympic Trials in the 10,000 meter. Her 10,000 meter personal best is 32:20.23, and 5000 meter is 15:27.74. Kibet competes for the U.S. Army World Class Athlete Program, and lives in Colorado Springs. She holds the ranking of U.S. Army Sergeant. Kibet is expecting her first child this year.

The USA Track and Field Foundation hopes to continue supporting athlete-mothers in their return to sport with this new Maternity Grant program. Grants will be determined on a case by case basis when expectant mothers apply at usatffoundation.org.