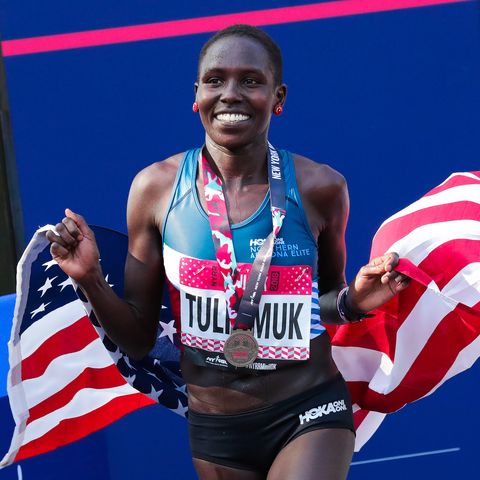 15 Feb

USATF Foundation Awards First Maternity Grant to Marathoner, Aliphine Tuliamuk

PITTSBURGH –  The USATF Foundation has awarded its first elite Maternity Grant to professional Marathoner, Aliphine Tuliamuk announced USATF Foundation Chairman Bob Greifeld.  The award is presented as part of a new USATF Foundation program to support women in the sport of track & field and running who are currently pregnant or are recovering after childbirth.

Aliphine Tuliamuk finished first in the U.S. Olympic Marathon Trials in February last year.  She was set to compete in the Summer Olympic Games in Tokyo, Japan until all plans were derailed by the Covid-19 pandemic.  Since she found herself with a small window of time, due to the postponement of the Olympics until 2021, she and her fiancé made the decision to start a family.  They welcomed a baby girl this January 2021 which allows six months for Tuliamuk to prepare for the Marathon in Tokyo on August 7th.

When informed of the Maternity Grant Tuliamuk exclaimed, "I am so grateful that the USATF Foundation chose me as their first recipient of the maternity grant; being a new mom is challenging enough, let alone being a new mom who's representing her country in the summer Olympics 6.5 months postpartum. This grant will go a long way as it will cover our babysitting needs so that I can rest and get back to training soon."

The USATF Foundation Maternity Grant Fund was initiated with a donation from USATF Foundation Director Lisa Larson.  As a mother of two herself Lisa Larson explained, "I am so grateful to be part of an organization that recognizes the potential of elite female Track & Field athletes after having babies. While pregnancy and childbirth can be unpredictable, it is clear that with the support they need, women can come back faster and stronger than ever.  I cannot think of a more deserving recipient of our first award than Aliphine Tuliamuk. This grant will allow Aliphine to fulfill her dream of representing the U.S.A. at the Olympic Games in Tokyo this summer."

The USATF Foundation Maternity Fund will assist elite women in Track & Field and running during their pregnancy and while recovering postpartum.  This fund will allow elite females athletes confidence that there is financial assistance available, if needed.  If you are an elite athlete in this situation please reach out to tsaumsiegle@usatffoundation.org for more details on the new grant program.