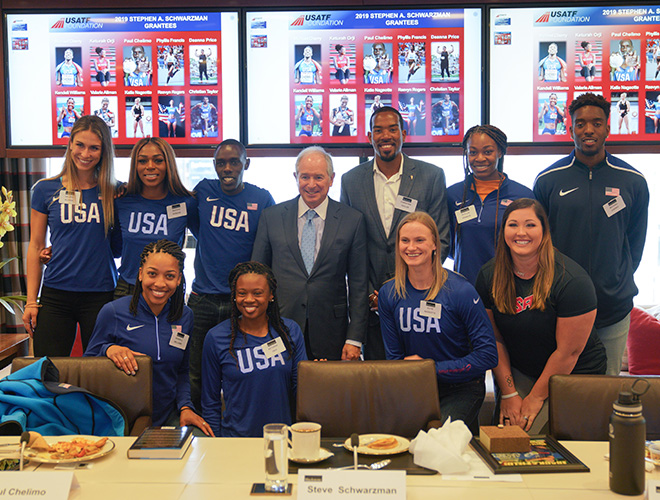 06 Oct

Stephen A. Schwarzman Pledges $8,000,000 to USATF Foundation in Support of Elite Track & Field Athletes

NEW YORK CITY – With an eye on Tokyo 2021 and Paris 2024, Stephen A. Schwarzman is continuing his unprecedented support of track & field with an $8,000,000 pledge to the USATF Foundation.  The gift will provide 65 Stephen A. Schwarzman Fund grantees with annual awards of $30,000 over the next Olympic cycle.

"Steve's gift supports many dreams. The sport is very fortunate to have an individual so passionate about giving our U.S. athletes every opportunity to make the medal stand," said USATF Foundation Chairman Bob Greifeld.

Alongside Schwarzman's gift, the USATF Foundation Board and additional donors pledged to match his support. This combined $16,000,000 in gifts and pledges over the next four years sets a new standard for USATF Foundation assistance.

Schwarzman is the largest individual donor to the USATF Foundation with giving totaling nearly $4 million over the last 7 years.  Foundation grantees have earned 21 individual Olympic medals, 10 Olympic relay medals, 74 individual World Championship medals and 48 World Championship relay medals.

Schwarzman's new support also comes at a critical time for athletes, who have faced unique challenges this year due to the postponement of the 2020 Olympics and overall disruption of the competition and training season.

"I'm proud to support these athletes as they look ahead to Tokyo in 2021 and Paris in 2024," said Schwarzman. "Their passion, dedication and grit – particular in these unprecedented circumstances – represent the best of America. It has been my privilege to hear many of their personal stories over the years and help them as they train to represent the country on the world stage."

The 290 past Stephen A. Schwarzman grants have funded athletes' training expenses, cutting edge equipment, massage and recovery, travel expenses, health insurance, medical expenses, coaching, and family support at major events. These new grants will continue to provide our athletes with the best opportunity to medal when representing Team USA.