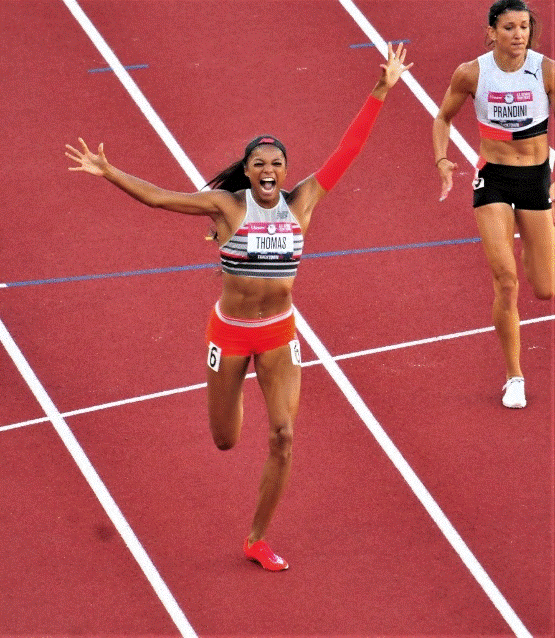 21 Jul

2021 Stephen A. Schwarzman Grant Awards Announced–65 Elite Track & Field Athletes Awarded $30,000 Grants

NEW YORK CITY – The sport of Track & Field is buzzing with excitement and anticipation after the completion of the US Olympic Team Trials in Eugene, Oregon ahead of the Olympic Games in Tokyo. The USA Track & Field Foundation hopes to add to this positive momentum with the announcement of its 2021 Stephen A. Schwarzman elite athlete grants.

The 65 Stephen A. Schwarzman grantees will each receive $30,000.  This financial support is crucial to ensure that athletes representing the United States have the resources needed to reach their potential and ultimately make it to the medal stand.

Stephen Schwarzman is the largest donor to the USATF Foundation. He has committed a total of $12 million to the grant program and distributed $5.7 million in direct athlete support including today's announcement. "I'm proud to support these incredible athletes and will be cheering for all 65 as they represent our country in Tokyo," said Schwarzman. "Their years of dedication leading up to the Olympic Games are an inspiration to me and so many others. They deserve every opportunity to reach their potential and compete on the world stage."

Although competitive opportunities have started to return, the effects of the Covid-19 pandemic are still being felt by almost all athletes.  Due to losses of sponsorship, a lack of prize money and limited appearance fees, hundreds of professional athletes are in severe financial trouble.  The USATF Foundation and its Elite Grant Program are continuing the tradition of assisting these athletes in need.

All USATF Foundation grants are awarded from a pool of applicants.  Elite athletes are encouraged to apply every year in April or May.  The Stephen A. Schwarzman grants are decided upon by the USATF Foundation Elite Grant Committee and criteria is based primarily on athlete's potential to medal at the next Olympic Games and World Championships along with consideration for monetary need.

"I am so thrilled to have made my first Olympic team and to have the opportunity to represent my country on such a large stage. It means so much that years of hard work is going to pay off and to know that I'll be competing amongst the best athletes in the world. I'm incredibly grateful to have this kind of support from donors and pure fans of the sport like Mr. Schwarzman. This funding will help me significantly with travel and medical expenses that quickly add up when in-season and competing. This will truly help as I prepare for Tokyo and beyond," exclaimed 200m runner, Gabby Thomas.

The 65 athletes receiving Stephen A. Schwarzman Grants in the amount of $30,000 each are:

Anavia Battle – 200m

Alex Young – Hammer Throw

Anna Cockrell – 400H

Annie Kunz – Heptathlon

Benard Keter – Steeplechase

Brittney Reese – Long Jump

Brooke Andersen – Hammer Throw

Chris Nilsen – Pole Vault

Christina Clemons – 100H

Clayton Murphy – 800m

Cory McGee – 1500m

Dalilah Muhammad – 400H

Daniel Haugh – Hammer Throw

Daniel Roberts – 110H

Darryl Sullivan – High Jump

Dave Kendziera – 400H

Deanna Price – Hammer Throw

Donald Scott – Triple Jump

Elise Cranny – 5000m

Emily Sisson – 10000m

Emma Coburn – Steeplechase

Erica Bougard – Heptathlon

Gabby Thomas – 200m

Garrett Scantling – Decathlon

Grant Fisher – 10000/5000m

Hillary Bor – Steeplechase

Isaiah Jewett – 800m

Javianne Oliver – 100m

Jessica Ramsey – Shot Put

Joe Kovacs – Shot Put

JuVaughn Harrison – High Jump/Long Jump

Katie Nageotte – Pole Vault

Kendall Ellis – 400m/4x400m relay

Kendell Williams – Heptathlon

Keni Harrison – 100H

Kenny Bednarek – 200m

Kenny Selmon – 400H

Keturah Orji – Triple Jump

Maggie Malone – Javelin Throw

Marquis Dendy – Long Jump

Mason Finley – Discus Throw

Michael Cherry – 400m

Paul Chelimo – 5000m

Payton Otterdahl – Shot Put

Quanera Hayes – 400m

Quanesha Burks – Long Jump

Raevyn Rogers – 800m

Raven Saunders – Shot Put

Reggie Jagers – Discus Throw

Ronnie Baker – 100m

Rudy Winkler – Hammer Throw

Ryan Crouser – Shot Put

Sam Kendricks – Pole Vault

Sandi Morris – Pole Vault

Steffin McCarter – Long Jump

Steve Bastien – Decathlon

Teahna Daniels – 100m

Tori Franklin – Triple Jump

Trevor Stewart – 400m/4x400m relay

Valarie Allman – Discus Throw

Vashti Cunningham – High Jump

Will Claye – Triple Jump

Wil London – 400m/4x400m relay

Woody Kincaid – 10000/5000m

Zach Ziemek – Decathlon

Please Note:  Additional USATF Foundation elite grants will be announced in the coming days.  Opportunities for Elite Athlete Development, John W. James, Adopt an Athlete, and Maternity Fund grants are still to be announced.