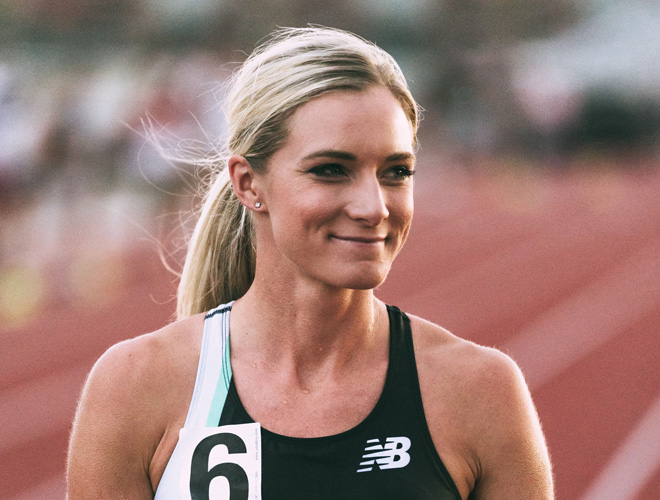 14 Sep

USATF Foundation Presents First Virtual Run With US! featuring Emma Coburn

PITTSBURGH – The USATF Foundation is excited to announce the return of its Run With US! program, which was presented virtually on August 10th, 2020.  Steeplechase World Champion and Olympic Bronze Medalist, Emma Coburn joined the USATF Foundation to talk about her experiences navigating her professional career, as well as some of the obstacles she had to face both physically and mentally along the way. This program is normally executed in person but was adapted to a virtual platform due to the Covid-19 pandemic.  Run With US! highlights professional athletes who generously give their time to help support the aspirations and goals of young athletes. Run With US! is meant to help these young athletes broaden their knowledge on running and exercise, nutrition, goal setting, and self-esteem.

Coburn spoke with cross country student athletes from Santa Margarita High School in California, where she took questions on different topics including the importance of nutrition, race anxiety, staying healthy and injury free, and motivation during these trying Covid-19 times.

"Emma Coburn is not only one of the world's best runners, but also a profoundly intelligent presenter who reaches out to athletes with wit and charm. We are so thankful that she could share lessons from the elite running life with our squad," stated USATF Foundation Director, Martin Dugard.

Coburn described the ability to stay injury free, especially for distance runners, as one of the most important things an athlete can learn and practice. She attributes her health in the sport to her consistency in training, sleep schedule, and fueling. Coburn explained that sudden weight loss at the high school level can lead to fast times initially but is unsustainable in the long run. Personally, Coburn focuses on eating a lot of carbs and protein and doesn't restrict herself when it comes to indulging from time to time.

Race nerves and anxiety was another topic the students were interested in exploring with the pro.  Coburn attributes her confidence in race plans to visualization, allowing her to imagine all the possibilities beforehand. She credits her 2017 World Championship win with following her race plan, and continually coaching herself to stay with the leading pack no matter how she felt or what circumstances appeared.

The ability to stay motivated and train during the Covid-19 crisis is something that is difficult for athletes of all skill level.  Coburn trains and keeps positive by knowing her future self will be grateful for the work she has put in. In addition, she explained the importance of finding other outlets and hobbies to make yourself happy and remind yourself that you are more than just a runner.

"It was so special getting to participate in the USATF Foundation Run With US! program. The student athletes from the Santa Margarita High School cross country team asked great questions and I was happy that I was able to share some of my insight. Thank you to USATF Foundation for connecting me to these great kids," exclaimed USATF Foundation grantee Emma Coburn.