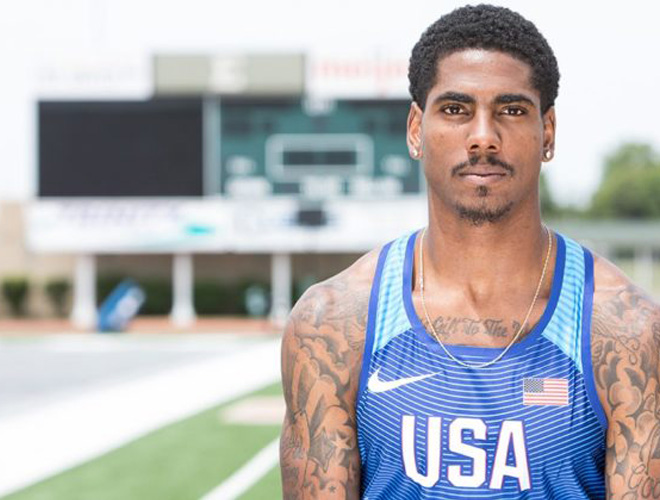 18 Feb

EMU Track Alumnus Sets Sights on 2020 Olympics in Tokyo

Article reposted with permission from EMU Today.

Donald Scott (BA15) personifies the old adage "actions speak louder than words."

Humble, grounded and without a trace of ego, Scott has quietly become one of the best triple-jump athletes in the United States—and the world. He excelled in the field event during his collegiate career at Eastern, where he set school and Mid-American Conference (MAC) records. He also won nine MAC titles and earned two NCAA All-American honors.

After college, Scott became a four-time national champion. He's ranked 6th in the world by the IAAF (International Association of Athletics Federations). And he's set another personal milestone by securing a coveted Adidas sponsorship.

Not bad for a relative late-comer to the triple jump. Scott, 27, says he began hitting his athletic stride during his junior year at Eastern.

"I became a student of the sport," he says. "I just practiced what my coach preached."

Now Scott's aiming for a spot on the U.S. Olympic Team for 2020 Tokyo. Making the team would extend Eastern's streak of 15 consecutive Summer Olympics with a representative from the men's and women's track programs.
Rough Start
Scott overcame challenging odds to reach lofty heights. Born in Fort Lauderdale, Fla., he grew up with his four sisters and younger brother in Apopka, near Orlando. Scott's mother was in the picture intermittently; his father was in prison. Scott went into foster care briefly before moving in with relatives.
"Growing up was hard," says Scott, who didn't meet his father until he was 12. "But I still had mother and father figures in my life."
Scott's first love was football. He excelled as a wide receiver at Apopka High, where he also played volleyball and competed in track and field. Shawn Proffitt, the school's track coach, encouraged Scott to compete in the triple jump, as well as sprints and hurdles.
"My coach was familiar with the proper movements for triple jump and taught me how to do it," Scott says. "As it turned out, I was good at it."
Among other honors, Scott became a two-time All-American in the 300 meter hurdles and triple jump, and was the 2009 USA Youth Triple Jump Champion.
College recruiters, however, were more interested in Scott's football skills. He earned a full scholarship to Eastern and started at wide receiver as a freshman. Still, Scott wanted to continue competing in track and field. Coaches graciously allowed him to compete in both sports.
"I originally intended to become a pro football player," says Scott, who earned a degree in Criminal Justice. "But by my junior year, I decided to turn my energies to the triple jump and see how far I could go."
Under the tutelage of EMU Assistant Track Coach Sterling Roberts, Scott developed into an extraordinary triple jumper. As a senior, he finished 3rd in the NCAA Outdoor Track and Field Championships and 2nd in the Indoor Championships.
"I've trusted Roberts since we began working together," Scott says. "He's taught me to remain calm when things don't go my way. He believes in me and pushes me to be the best I can. We have a tight relationship and I'd love to have him as my coach until I retire."
Working alongside Roberts, Scott's ultimate goal is to win an Olympic medal. He fell short of making U.S. Olympic Team in 2016, finishing 7th at the USA Outdoor Track and Field Championships.
"I knew that my time would come," Scott says of that disappointing finish. "I just felt I needed more experience."
At Home in Ypsi
Scott continues honing his talents while chasing his Olympic dreams. In 2017, he won the USA Indoor Championships and finished third in the USA Outdoor Championships. Last year, Scott won the USA Outdoor Championships and earned a silver medal at the first Athletics World Cup in London. He also placed third in the IAAF Diamond League in Brussels.
In 2019, Scott won USA Indoor Track and Field Championships, and equaled his personal best of 17.74 meters to win the USA Outdoor Track and Field Championships.
While other top track athletes might have left southeast Michigan to train in a more temperate climate, Scott has remained in Ypsilanti, where he served as a volunteer track and field coach at Eastern. Recently, he began coaching track athletes at Ann Arbor Huron High School. In 2018, he married Nyisha, a student at Washtenaw Community College. They recently welcomed their first child, a daughter named Anastasia.
Scott's character and athletic abilities caught the attention of Dan McClory (BS81, MA82), a former track and cross country athlete at Eastern, member of the University's Athletics' Champions Advisory Board and longtime supporter of the EMU track and field program. He follows the sport closely as a board member of the USA Track & Field Foundation—the fundraising arm for the Olympic sport.
"I met Donald at various champion events and I've been fortunate to get to know him personally over time," says McClory, managing director, head of equity capital markets and head of China for Boustead Securities, an investment banking firm located in Irvine, Calif.
In August, Scott was one of 25 recipients of a $25,000 Steven A. Schwarzman grant. The funding, administered by the USATF Foundation, provides financial support to athletes competing in the IAAF World Athletics Championships in late September in Doha, Qatar.
"The great majority of U.S. track athletes rely on grants like these to pay for expenses like travel, coaching, equipment and more," McClory says. "These athletes are not only preparing themselves to compete, but also trying to support themselves financially."
Before leaving for Doha, Scott reflected on his athletic goals and next summer's U.S. Olympic Team trials. He spoke more about how winning an Olympic medal would impact others rather than how it would look in his trophy case.
"I just want to excel as an athlete as long as I can," Scott says. "Winning a gold medal would be fantastic. It would be a great inspiration for the kids I'm coaching today."